Friday, July 19, 2013
A favorite shop of mine to browse is Honey from the Bee. If you haven't had the opportunity to visit Janet's shop, there is no better time than now to sit back and enjoy the ride. I have to say these unique etched earrings caught my eye, as they are a magnificent work of art.
http://www.etsy.com/fr/listing/157129933/sun-earrings-sol-etched-bullet-casing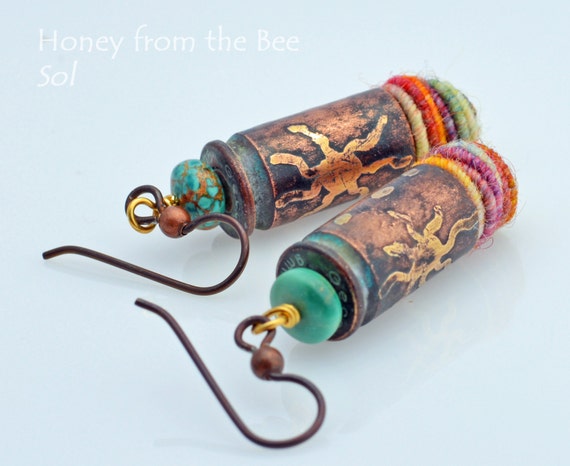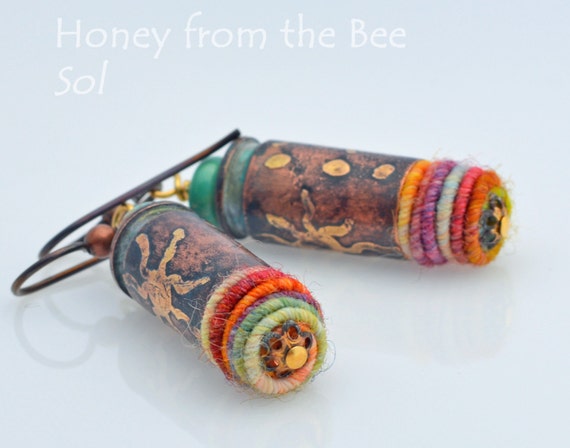 A note from Janet~
With a distinct south of the border look to them I call these summer earrings: Sol. Such a better use of bullet casings, wouldn't you say? Brass bullet casings are etched with a tribal styled sun. I've added twisted fiber beads from an artist on Galapagos Island: Jimena. They remind me of the colorful blankets in Mexico and Peru. Topped with a rondelle of turquoise just takes them to the right place for me. (Two inches long from the top of the bronze kidney earwire to the bottom of the beads.)
My bet is that these will become favorite summer earrings since they'll go with so many things you already own.
Some other pretties from HoneyFromTheBee....be sure to stop by her shop and enjoy! Thanks!